Against the Odds - Doreen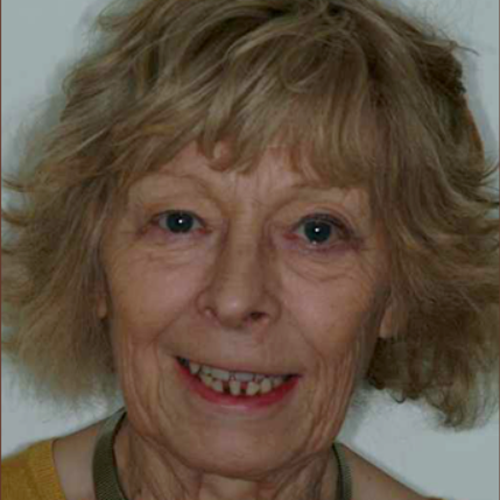 Before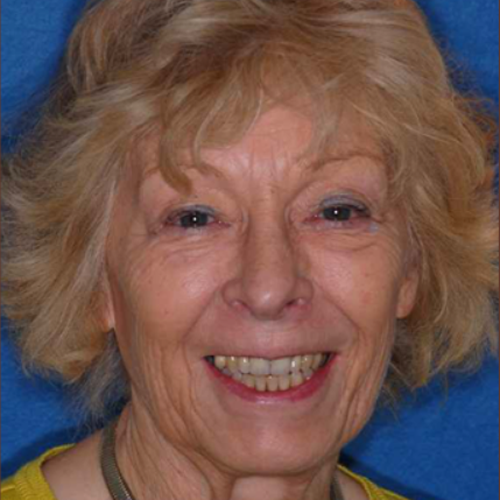 After
Doreen had orthodontic treatment with ceramic braces,
nominated Peter and was the runner-up in 2008's competition.
I think my orthodontic specialist and myself should win this award because of the kindness and expertise he has given to me.
To begin with, I will tell you something about myself. I am seventy something, not very big and not very brace. In fact I am something of a coward in that I have even shied away from having my ears pierced! I did have a real phobia about essential visits to the dentist and only my vanity pushed me to attend.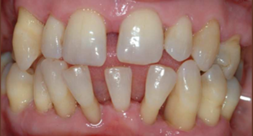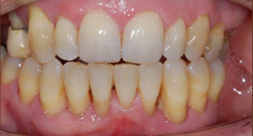 About two years ago I courageously visited my regular dentist to express concern about the stability and state of my teeth. They were not decayed but were very crooked with quite a wide gap between the two central upper teeth. My gums were also receding and an appointment to a periodontist was suggested.
It was with some trepidation that I made this appointment and after several treatments my consultant considered that Dr Huntley the orthodontist may be able to help me further by straightening my teeth. Frankly I was frightened by the prospect and thought that at my age it was impossible task and braces would be too uncomfortable- How wrong can you be.
From my first phone call to the final "unveiling" I was supported in the most kind wonderful way by Dr Huntley and his staff.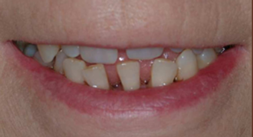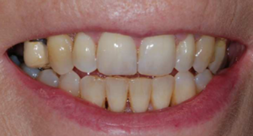 Dr Huntley assured me that he could give me "the perfect smile" and he was right. There was much preparation work to be done. The surgery had all the modern technology to photograph, scan and measure. I found all this fascinating and realised how fortunate we are to have the benefit of such advance and technical knowledge to use new wizardry.
Eventually it was braces day. I was apprehensive but also excited at the prospect of leaping ahead with my treatment. I felt very confident with my consultant and this was essential. I was fitted with fixed braces on the upper and lower jaws and was warned not to eat raw carrot, fresh apples or toffees.
Yes, the fixed braces did feel odd at first but within a few hours I was acclimatised to the wires in my mouth ( A glass of wine helped.).
Throughout the last year or so I have been watched and encouraged as the braces were tightened. I became quite unaware of the wires around my teeth. I did manage to break a wire once, but within a few hours a kindly Dr Huntley had repaired the damage.
At last the day arrived for the braces to be removed and I could hardly wait to see the result., Yes my teeth looked fantastic, all the crookedness had gone and the gaps closed. Unbelievable!
My treatment was done on a private basis rather than on the NHS. Was it worth it? I am pleased to say yes, yes yes. It was worth all the time, cost and trouble.
How can I adequately thank Dr Huntley and his staff for their care and professionalism - next to impossible - BUT who is my "knight in shining armour" (and blue latex gloves) Dr Huntley!