Against the Odds - Joanne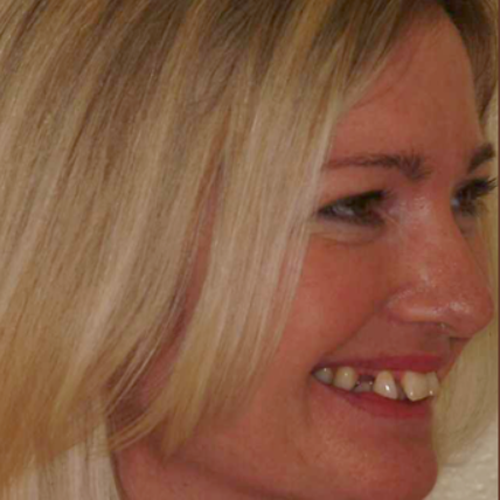 Before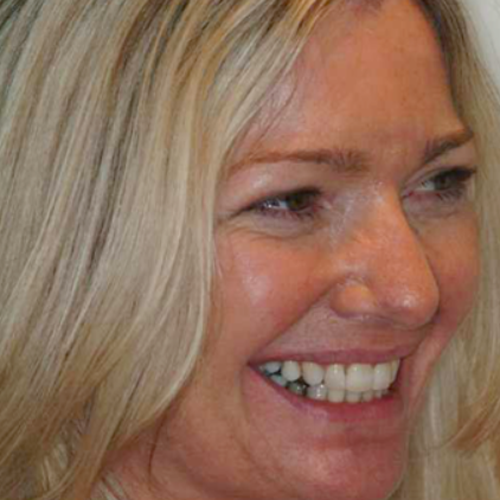 After
Joanne had orthodontic treatment with lingual braces and
she came first in the 'Against the Odds' competition.
At three, I fell from a swing and broke my front milk teeth. At eleven, my teeth were crowded and protruding and the dentist removed seven and fitted a brace. In later years the teeth grew forward, the gaps re-appeared and I was very self-conscious.
Despite many consultations over the years, no solution seemed possible. By May 2003 I was happily married with three adopted children and loved my work as a practice nurse- but I hated my teeth. Enrouraged by my husband I sought advice and from the moment I met my specialist, Peter Huntley, I felt empowered. Peter warned me it would not be easy and said that I would be a challenge for him but he was confident that he could give me the smile I had always longed for.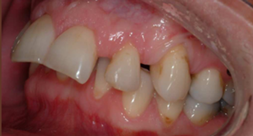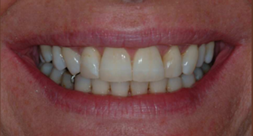 Treatment commenced with a removable appliance to correct my bite, before the fitting of my lower fixed brace. This initially made me lisp, which was an embarrassment as patients had difficulty in understanding me.
It was then that my life imploded. First my teenage daughter ran away, then we had a house fire, in which my two sons and I were trapped and lucky to escape unscathed, forcing us to move in with my parents whilst the house was rebuilt. At the same time I was studying for a Diploma in Asthma at Warwick University and my problems were compounded by my husband working in Brussels. My life was in complete disarray- not the ideal time to embark on orthodontic treatment, Peter and his wonderful, caring staff made me feel "good" at my six weekly visits, although they were unaware of my personal problems.
Eventually we moved back home, although our daughter was still estranged. Somehow I managed to complete my studies and gained Asthma diploma. Strangely I recall remarking that this was against all the odds! Then in 2004 my husband was diagnosed with a malignant brain tumour and our lives fell apart. He underwent surgery and gruelling chemotherapy. At this stage I questioned having orthodontic treatment whilst Richard was fighting for his very survival but he encouraged me to persevere and it seemed the only positive thing to do in a negative situation.
My treatment was having dramatic results. The teeth were straight and the gaps closing. Meanwhile I was doing another university course in Diabetes and eventuallly obtaining the diploma. We were also reconciled with our daughter.
In July 2006 the outside braces were removed, revealing the beautiful smile promised by Peter. The photograph taken at my sister's wedding illustrates his wonderful work and I was glad that my husband lived to see the results. Sadly, he died in October, another bitter blow.
I cannot thank Peter enough for transforming my appearance and thus raising my confidence. I would never have achieved this without his dedicated expertise. I now have lovely teeth for the first time in my life- against all odds.